The voting system for international blog awards –
The BOBs
– by Deutsche Welle has given scope to cast fraud votes in Bangla blogsphere. A group of bloggers well known for obscenities and derogatory comments at specific individuals in respect of gender, race, religion, nationality, sending hate e-mail, cyber bullying, cyber stalking have manipulated the result. Bangla blogsphere has its own dynamics and distinctive differences with other nations. The voting manipulation must not reflect the actual strength and beauty of bloggers in Bangladesh.
Vote tempering
One can vote in every 24 hours – earlier I considered it as a bug. Later I noticed, DW itself
officially pounding
the drum to encourage such a vote tempering. I am hearing a number of chitchat that a bundle of Facebook-Twitter account has been opened. Those are in use to vote twice per day. The most ridiculous part is,
a blog
, officially supporting their own nominees, managing votes in group. As the way we understand national election hoax by its symptoms, online voting is also been understandable by its nature. Take note, almost reader less
Amar Blog
is leading with its blogger in different category. It is truly an wonder! Lets consider the case of
Arif Jebtik
, who is not an active blogger for the last two years. He writes a little now a days in a blogger less blog. So, how does he managed such a huge % of vote? It is almost everyday, hidden votes are increasing! I noticed very sharply, from the very beginning
Arif Jebtik
,
Omi Rahman Pial
and
Sabrina
's blog following a special voting pattern - not too many, not too less, an average rate of votes. To hide such voting fabrication, abnormal votes are coming up for
Abu Sufian
,
Indigenous blog
and few other blogs. I feel really bad for
Sabrina
, a physically disable blogger. She is surrounded by some dishonest people.
Smart Scripting
Let us compare the voting pattern (in %) of those leading blogs in different category - machine's fine work with NOT enough ups and down discrimination!
Indigenous
Blog – 42% vote
Arif Jebtik
's Blog - 41% vote
Abu Sufian
's Blog – 41% vote
Sabrina
's Blog – 39% vote
Omi Rahman Pial
's Blog – 38% vote
Nominees from a specific platform, which is very novice and unfamiliar in bangle blogospeare, having same voting nature is undoubtedly an unusual example. On the other hand, as
Avro
creator
Mehdi Hasan Khan
's blog link belongs to
Sachalayatan
; poor of him! it is very disappointing to see that
Amar Blog
's voting machine is not helping him much. So far his collection is only 34%. Whereas Mehdi has got a very familiar appreciation among all. He supposes to get more votes!
Omi Rahman Pial
is one of the originator of
a porn site
, which even once engaged with child pornography. Because of the massive protest of bloggers against his JJ site, he has become soundless in blogging.
Arif Jebtik
, the contestant under Best Blog Bengali category, was directly involved with a radical islamist political student committee group. These two are very intimate with the Bangla division juri Rezwanul Islam and thus they get the nomination pass into DW blog contest.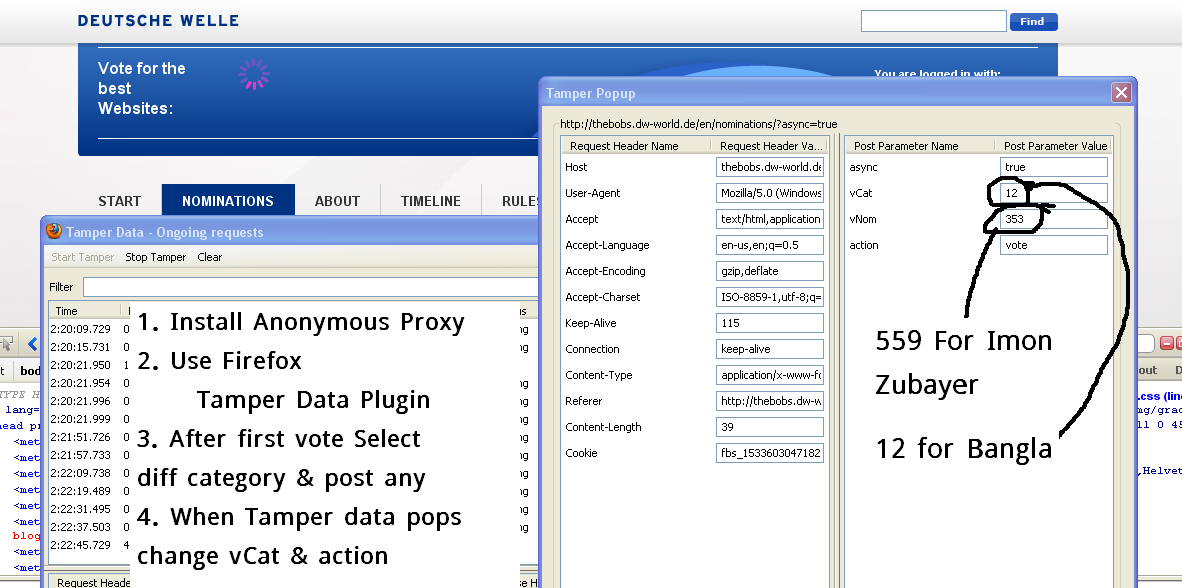 All roads are open to cheat
I observed, one Facebook or Twitter account can add 84 votes in total as per
DW rules
. By opening 100 accounts in Twitter-Facebook (nothing is more easier than this in the world!), 8000 votes can be casted by any automated software or without any script. A smart candidate can create 100 Facebook-Twitter account so easily and give vote to own-self twice in a day. So, are you thinking that opening Facebook-Twitter id is really such an easy task? Yes, easy! By running script 1000s of votes is also not a tough task. Not only Facebook, but also 100s of Gmail account opening is not a big deal. Blogger Tarpan's
outstanding observation
has revealed an unbelievable fact about vote tempering in the current contest.
Lets have some comparison
Omi Rahman Pial, under Best Social Activitism Campaign category, is leading with 38% vote. An Spanish blog with 27% vote is holding 2nd position and a Rush blog is at 3rd. If only 0.1% from the huge
Spanish internet users
come to vote, then Bangla blog would go downwards. If a tiny portion of
42% internet users
country Russia cast their vote, Bangladeshis around the world with full force would not be able to beat them. Just see the case of 7 natural wonders selection. Whole Bangladesh tried together but failed to include Cox's Bazar to the main list. Sunderban is still surviving at the bottom of the list. So, where is the malfunction? Do not bloggers of other countries have any interest in this contest? Or number of internet user's in Bangladesh raised by miracle?
See again, in Human Rights category,
Indigenous Bengali blog
leading with 42%. A portuguese blog is at 2nd position with 19%. Just check out the
internet usage statistics
in Portugal. On the other side, Sabrina is at top with 39% vote, an Arabic blog following her with 22%. You must see the
Internet usage statistics of Arabs
. Compare it with
Bangladesh
. After that you may not need to know the Bengali Bloggers statistics. So, here the same question has to be repeated, from where all those abnormal votes are coming? Is it from up above the sky- the heaven?
We demand Investigation
It is very disappointing that even though DW was notified of this vote fraud, no reaction came out from them. Top of that being an organizer of such event, DW Bangla section itself voting for some selective nominees. The twitter notification
showing us the fact
.
No one has any doubt that there is huge vote swindling in DW's current contest. Some blogger requesting to boycott such a laughable contest. We expect, DW will take a step to investigate this vote fraud. Blogs with abnormal % have to be separated to identify their voting map and other proves to declare an official action against those. The sooner DW perform this action, the more their reputation will be boosted up.
Contest like this demand transparency. That is why we raised our voice against this vote fraud. Join our Facebook group :
http://www.facebook.com/home.php?sk=group_122496711160296&ap=1